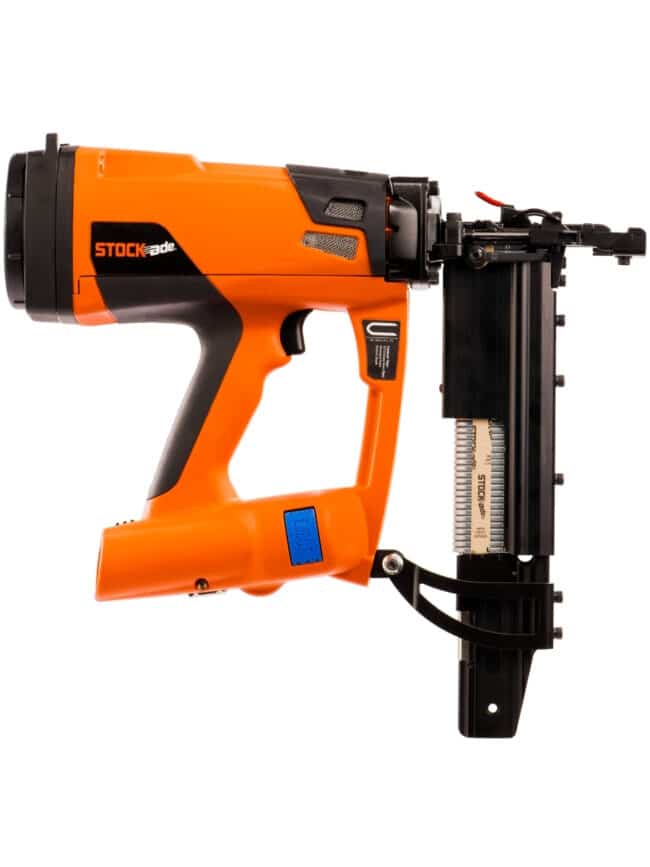 ST400i Cordless Utility Stapler System
Portable – no need for compressors or airlines​
Efficient – fast, high output design drives up to 2 staples per second ​
Reliable – Fuel Injection Technology delivers consistent power every time ​
Fuel & Battery Indicator – never get caught short ​
Adjustable depth of drive for greater flexibility with staple placement​
V-Notch guide and wire guide to ensure correct staple placement and improved holding power
Features
The ST400i cordless utility staple gun drives 9 gauge barbed staples reliably and consistently, making utility stapling faster and easier. Reducing the impact stress that occurs from repetitive manual hammering and fastening the ST400i helps mitigate risk or injury to people in the process.
The advanced fuel injection system delivers optimal fuel dose every time delivering outstanding power to drive 2 staples per second. The Sequential trigger system provides an accurate staple placement and improved operator safety so you can work with speed and confidence. ​
The ST400i cordless utility stapler gun driver blade is engineered to support the staple and reduce damage to the staple crown, and adjustable depth of drive provides ultimate flexibility to drive staples to your desired depth. ​
The ST400i is powered by fuel cells (included with staples) and Li-ion batteries (3000 staples per charge).
ST400i Staples
A pole in the ground can be expected to last 50 years. The staple holding the ground wire should hold for the same. Stockade staples deliver superior durability with consistent results. Their heavy coat containing 90% zinc and 10% aluminum provides superior corrosion resistance over standard hot-dipped galvanized staples — and a stronger, longer hold. Stockade staples have six times the corrosion protection compared to standard zinc galvanizing.
Stockade staples are engineered for superior corrosion resistance and long lasting hold even in the world's toughest environment​s
90% Zinc, 10% Aluminium pre-galvanized 240gm heavy duty coat provides superior corrosion resistance
Specified wire tensile strength and divergent point design enhances holding power​
Waterproof collation tape for all weather performance​
9 Gauge staple diameter
"The Stockade cordless ST400i power stapler is rugged and is a nicely built unit. It has proven itself in the utility space. It is the safest, most ergonomic stapling tool and a great product to use."
Rick Kennerly – Utility Safety Consultant
Specifications
| | |
| --- | --- |
| Specifications | Details |
| Product Code | ST4INA2 |
| Product Size (WxHxD) | 4.33″ x 14.56″ x 16.92″ |
| Packaged Size (WxHxD) | 6.29″ x 18.50″ x 20.07″ |
| Tool Weight | 9.25 lbs |
| Packaged Weight | 17.63 lbs |
| Quantity Per Pack | 1 |
| Cycle Rate Per Second | 2 staples per second |
| Magazine Capacity | 53 staples (approx 2 strips) |
| Battery Capacity (Maximum) | Up to 3,000 staples per battery |
| Fuel Cell Capacity | Up to 500-750 staples per fuel cell between 4°C and 49°C |
| Staple Range Length | 1 1/2″, 1 3/4″ and 2″ |
| Staple Diameter | 9 Gauge |
| Staple Type | Hot dipped pre-galvanized 90% Zn 10% AL 240gm |
| Battery | 3.7V DC |
| Battery Recharge | 2 hours |
| Fuel Cell | Stockade Impulse Fuel Cell |
| Propellant | Liquid Hydrocarbon |
| Fuel Cell & Battery Storage Temperature | 5°F to 120.2°F |
| Rated Input Voltage Battery Charger | 100-240V 50/60Hz AC or 10-16V DC |
| Rated Output Voltage Battery Charger | 3.7V 2.1A |
The information presented in this product information sheet is correct as of the date of publication. Stockade reserves the right to change performance, product or content information without notice. READ ALL SAFETY INSTRUCTIONS