Stockade has partnered with Eastland Timber since their first beginnings seven years ago. Now, Eastland Timber, a successful Hawke's Bay firm, reaches out from its Wairoa base to service Gisborne, Dannevirke, Feilding and Napier with high-quality Stockade fencing solutions such as the ST315i batten fence stapler and the ST400i post stapler.
Mike Billinghurst, Stockade's North Island Sales Representative says the supplier relationship with Ken King at Eastland Timber really works.
"Ken's philosophy of exemplary customer service and genuine relationships resonates with Stockade. We both put ourselves in our customers' shoes and work together to provide the best service right to the fence line. We know how important it is that our products can be trusted to do the job every time."
Ken also listens closely to his customers' needs and knows Stockade products are high on their agenda.
"We stock what our customers need and only use reputable suppliers – and we deliver on time. Product delays and breakages can lead to down time on the fence line. In turn, that can cost a business a lot of money. Keeping reputable stock on hand for quick delivery is a big deal so we make sure we always have good levels of all Stockade products on the ground."
This service is appreciated on the fence line. Haydon Walton from Hill Country Fencing in Gisborne takes his hat off to Ken.
"Ken will do anything to make things happen. He listens to what we need and manages his stock accordingly. He has brought in high-quality gear. That's what we need."
Haydon started up Hill Country Fencing nearly 20 years ago and runs three to four rural fencing crews putting in hundreds of kilometres of fence line every year. He says you've got to stick to your guns on quality and specs as there are a lot of inferior products out there.
"We won't have them. Where other outfits might say 'it is what it is', Ken puts his whole effort and ownership into delivering great product and service to do the best for his client and best for the fencer as well. He stocks Stockade tools for us. They make a massive difference to our workload. Man, they are magic. Stockade have obviously done their homework, they have good quality. Stockade staples are good. They stay together. They don't fall apart or slow you down."
Haydon's crews use ST400i cordless stapler tools every day. Their speed and reliability help him complete jobs four-times faster than hammering.
"By hand, we can tap off 200 metres an hour, with a ST400i we can do 800m. That's massive. It helps us do things right the first time."
Stockade has the right tools to make fencing faster, easier and safer for fencers and fencing contractors.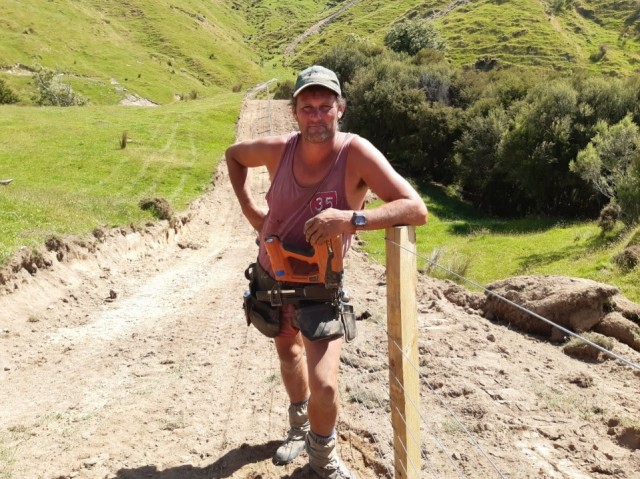 "Stockade tools make a massive difference to our workload. Man, they are magic. By hand, we can tap off 200 metres an hour, with a ST400i we can do 800m. That's massive."
— Haydon Walton, Hill Country Fencing