Rorey and Chase Halliburton, in Middle Tennessee, will work in the snow, but ice makes fencing difficult. A bitter ice storm is ramping in from Texas, up through the MidWest, and across the South Eastern States.
"It has been a whiteout," says Chase.
While speed is critical when racing the weather and when facing completion deadlines, the Halliburton's never compromise on quality. "Craftsmanship", Rorey explains, "is the sign of a true fencer"."Fencing is a lot of work. But it is a blessing to see what you have built with your two hands, to stand back and say 'I did that'. Quality work. I like it."
Rorey and Chase started as landscapers, and during quieter winter they picked up fencing jobs. Then fencing boomed. Halliburton Fencing quickly expanded from agricultural fence to chain link and more.
"If you can think of it, we can build it!" says Chase. "And we love what we do. We want to make sure it is right. We take the extra time to make sure everything is on point."
Managing the mix of agricultural and residential fence work has been the greatest achievement for the pair as their business has grown, and looking ahead, they hope to keep doubling up and possibly start a second crew.
Rorey and Chase's investment into Stockade's fencing systems, with the ST400i cordless stapler tool and the Stockade RingFast tool, is definitely supporting their goal to grow and service their agricultural and residential customers.
A couple of years ago Rorey and Chase were introduced to the Stockade ST400i cordless stapler through a local fencing contractor.
"We thought it was a lot of money for the tool, but he is like 'Oh no, in the first five minutes you will be glad that you have spent the money".
"Our first big job, it was two miles. This was a good time to buy one. Oh man, it was so great! We went out and bought another! The ST400i cuts the labor plum out. It speeds the whole process up. They are worth every penny and they are very reliable. We have had zero problems with it."
Rorey agrees, "It speeds production up. Man, we rarely swing a hammer anymore. It saves your arms and your elbows. It's very dependable too."
With growing demand for residential fence, the Halliburton crew found the Stockade RingFast tool. It is ideal for connecting chain-link with high tensile wire or barbed wire.
"The RingFast knocks an hour off an average residential job. It is very fast and easier, there's no fumbling around. It is just bam, bam and go!"
Before getting hold of the manual RingFast tool, Rorey says they were attaching individual hog rings with pliers.
"With the manual RingFast tool we can just stay down and run along the wire. It is very quick, we really like it. I highly recommend it."
Even though Rorey and Chase don't run a compressor along the fence line, they have had a preview of Stockade's new pneumatic RingFast tool. The nose shape on the pneumatic tool makes it very easy to use on chainlink, and there is plenty of speed advantage by pulling that trigger instead of having to squeeze the ring every time.
"It is quick and does a really good job. You get a consistent crimp every time. The slot on it for the wire is really dead on. It is almost like shooting the ST400i stapler tool, it is on point."
For high-tensile, woven, or chainlink. Stockade tools deliver greater productivity, consistent high-quality, reduced labor costs, and lowers strain and physical fatigue.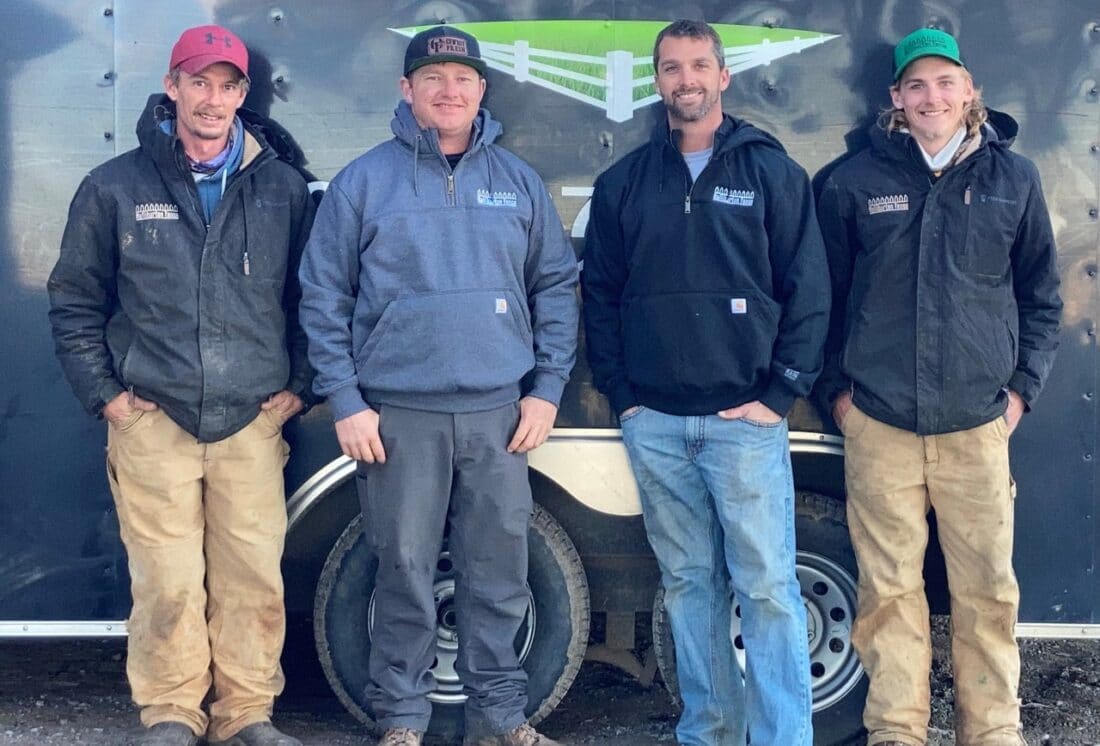 Contact your local Stockade representative to learn more about the ST400i and Ringfast solutions and learn how to build efficiency into your business.