For Matt Schaefer, building up and equipping his Grasslands Solutions crew has been a standout accomplishment during his two and a half decades as a fence contractor in Cokato, Minnesota. It's a long term focus that has helped Matt keep the business relevant for the times, production levels high and helped build a reputation of delivering large and small projects on time.
In 1998, Grasslands Solutions was a small family business, starting off building high tensile fence, then expanding into agricultural fence with local demand. After college, Matt and his wife Karin took over the company from his father. Grasslands Solutions now totals eight staff, including crew, an estimator and an office manager. They do agricultural fence and spec fence, mostly high tensile woven wire in a commercial setting.
"We are not doing things like we did when we first started. It's been an evolution – and that is what makes work exciting. I think back to when I started, having to do so much physically. Now so much of this is done with mechanicalized equipment or apps in the office. I would say we are blessed to have tools and equipment to do the job and to use every day."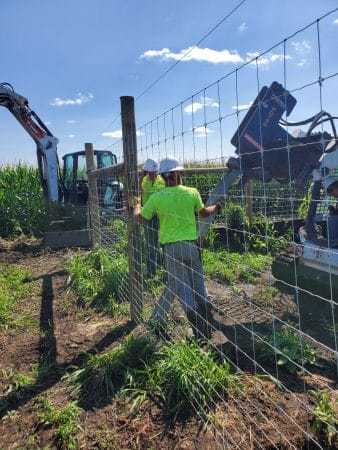 Early Adopter
Matt started with the Stockade ST315 battening tool shortly after it arrived on the scene. When the ST400 pneumatic stapler tool came out, he bought one of those, and he kept going.
"Fatigue is way down and the ST400i has made the installers' lives a lot better."

Matt Schaefer, Owner – Grasslands Solutions
"We still have both tools but use the ST400i cordless now. I would say we have six Stockade power staplers and we are pretty much fully integrated into the ST400i stapler tools. Fatigue is way down and the ST400i has made the installers' lives a lot better. If you put two stapler tools on the line, in no time you can have a tremendous amount of fence stapled up. For me it is a psychological advantage just knowing how much faster the ST400i goes and the empowerment to the team of having something that is the fastest in the industry."
No Need For Hammers
"We do have a couple of hammers, but there wouldn't be a hammer for every man on the job because we just don't utilize them like we used to. We have had 80 lbs of loose staples on the inventory going on four years now. At one point that was all we used."
Matt recalls times when they were hand hammering and they wouldn't finish projects. "We would run out of steam by the end of the day."
Grassland Solutions Today
Matt's focus on people and tools has allowed Grassland Solutions to set itself apart in the industry and building a reputation to manage and attract large-scale project
"We've recently completed a 30,000 foot job of woven wire for a commercial job which was more or less completed in one phase, followed by tree planting etc and finalizng gates. This job was brought to us because we have a reputation of being able to handle large footages and that derives from the tools and equipment."