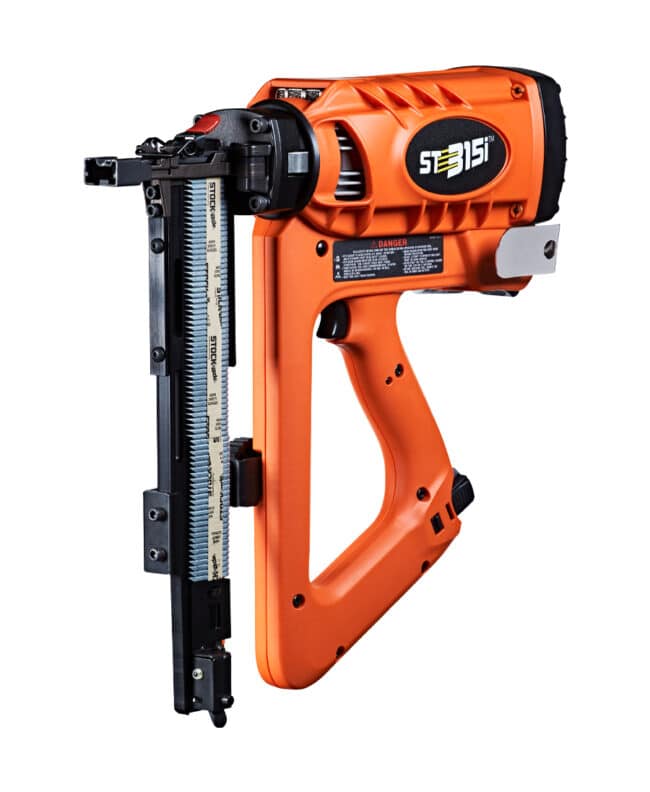 ST315i Cordless Dropper Fencing Stapler Gun
Portable

 – no need for 

compressors or airlines

​

Efficient

 – fast, high output 

design drives up to 2 staples 

per second

​

Lightweight

 design for 

comfort during periods of high 

use

​

Top Load Magazine

 for fast 

reloading to 

minimise

 down-

time

​

V-Notch Guide

 ensures 

correct staple placement and 

improved holding power
FEATURES
The ST315i cordless fencing stapler gun drives 3.15mm diameter staples reliably and consistently, making it the perfect tool for stapling droppers. Making fence construction and maintenance more efficient the ST315i fencing staple gun delivers productivity gains for farmers and fencing contractors.​
With impulse technology the ST315i is portable and there's no need for compressors or airlines making this dropper stapler the ideal tool for hose-free work in remote situations. ​The adjustable depth of drive provides ultimate flexibility to drive staples to your desired depth providing a superior finish and preventing damage to the wire. ​
APPLICATIONS
ST315i STAPLES
Stockade staples are engineered for superior corrosion resistance and long lasting hold even in the world's toughest environment​s
Manufactured from 90% Zinc 10% Aluminum pre-galvanised wire
Specified wire tensile strength and divergent point design enhances holding power​
Waterproof collation tape for all weather performance​
3.15mm wire diameter​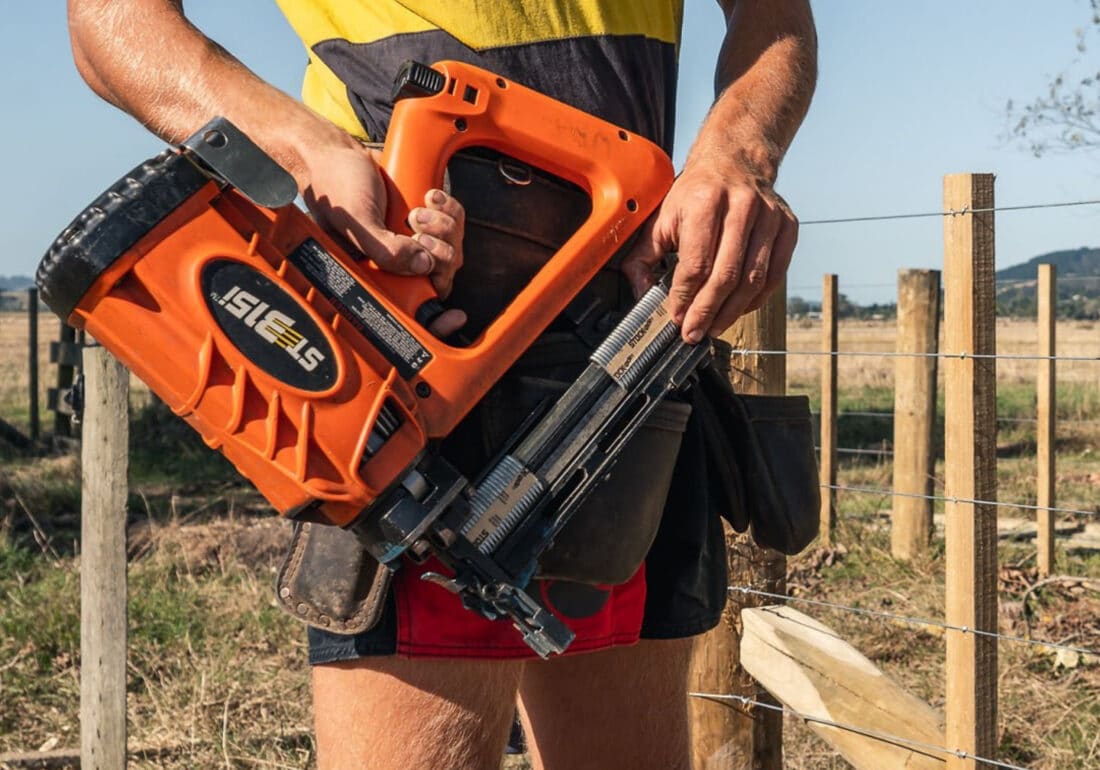 SMARTER WAY TO WORK
With the ST315i cordless dropper stapler, you can maintain great fences and focus on revenue-driven work.
SPECIFICATIONS
| | |
| --- | --- |
| Specifications | Details |
| Product Code | A12316 |
| Product Size (WxHxD) | 110mm x 396mm x 378mm |
| Packaged Size (WxHxD) | 370mm x 455mm x 150mm |
| Tool Weight | 3.8 kg |
| Packaged Weight | 6.6 kg |
| Quantity Per Pack | 1 |
| Cycle Rate Per Second | 2 staples per second |
| Magazine Capacity (Short) | 75 staples (approx 3 strips) |
| Battery Capacity (Maximum) | Up to 3,000 staples per charge |
| Fuel Cell Capacity | Up to 1,000 staples per cell |
| Staple Range Length | 33mm and 40mm |
| Staple Diameter | 3.15mm |
| Staple Type | Divergent point (hot dipped galvanised) |
| Battery | 6 Volt DC |
| Battery Recharge | 2 hours |
| Fuel Cell | Stockade Impulse Fuel Cell |
| Propellant | Liquid Hydrocarbon |
| Fuel Cell & Battery Storage Temperature | -15°C to 49°C |
| Rated Input Voltage Battery Charger Base | 12 Volts DC 800mA |
| Rated Output Voltage Battery Charger Base | 6 Volts DC 700mA |
| Rated Input Voltage Power Adaptor / Transformer | 220 Volt AC 50Hz |
| Rated Output Voltage Power Adaptor / Transformer | 12 Volt DC 800mA |
The information presented in this product information sheet is correct as at the date of publication. Stockade reserves the right to change performance, product or content information without notice. READ ALL SAFETY INSTRUCTIONS
The ST315i Cordless Dropper Fence Stapler Gun
The ST315i cordless fence dropper stapler gun is durable and lightweight, made from corrosion-resistant alloy housing for ultimate durability. For use on dropper fencing.
The ST315i cordless dropper fencing staple gun with fast output design up to 2 staples per second. Lightweight design for long periods of use. Adjustable staple depth allows for greater flexibility.