Stockade caught up with Otago local Ken Lake from Omakau as he was putting in rabbit fencing on a lifestyle block up the back of Ophir.
"The sun is shining and it's a site hotter than the 6-8 degrees forecast. It is going to be a good day."

Ken says there is nothing difficult about fencing in Otago.
"At worst, you just come across something that slows you down. It just takes time."
Right at the beginning, Ken recalls his father teaching him the art of fencing, "the way he did it".
New jobs = New ideas
"As you move to new jobs you pick up new ideas along the way. I have been to a few FCNZ conferences and it is quite amazing what you can pick up there and also from networking with different fencing contractors."
Ken's first fencing memory is as a youngster at Island Block, Millers Flat in the early '60s.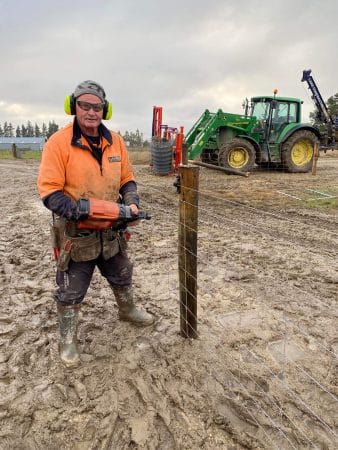 "Tap-n-Turn"
"My father was down by the Clutha River with the farm worker putting a hole in the rock. They were using what they called a 'tap-n-turn'. This was a crowbar with a chisel head. One of them would hang on to the crowbar, the other would hit it. They would turn, hit, turn, hit."
The monotonous cycle repeated, and Ken recalls it taking a very long time to put two to four inches in the rock.
"It was one of those jobs that you would have liked someone else to do. By the time I was fencing we'd use a cobra rock drill to drill holes for waratahs to go in. It would splurt and cough, then stop. Now there's the compressor that runs a rock drill and a air hammer, this is much improved on the cobra."
A young shepherd
"I left school at 17 and worked for my father at Island Block, then went shepherding at Linnburn Station. From here I headed to work at Moa Flat. The beauty of working as a shepherd and then going fencing is that you have an idea of where to put a fence because you understand where the stock run."
"The old station fences were built around the early 1900s and a lot of those are still standing, and we would go around once a year to maintain them and fix the broken wires after the snow had knocked them down."
"Then around 1945, after the second world war, stations and farms were subdivided a bit more. This time using a six-wire fence with flat standards and a tin dropper. When fencers came to a rocky piece, where they couldn't get it a hole in, they would bend the flat standard over and sit a rock on top, then thread the wire through."
"By the early 1970s, my father bought Northburn Station. I spent the next 20 years there. Around a month a year was full-time fencing. Initially, it was splitting up the big blocks, and in the later years, by the 1980s, we'd come back to put rabbit netting on those same fences to control the sky rocketing rabbit population in the South."
Otago farms' most serious problem
Rabbits bred rapidly in Central Otago, where they enjoyed the perfect conditions of wide grasslands, high sunshine hours and low rainfall. Ten rabbits could eat as much pasture as one sheep, so fast working fencing contractors were in high demand. Plagues of rabbits were such a serious problem that they caused the financial ruin of many Otago farms. They are still considered as the Province's most serious agricultural pest.
Ken recalls rabbit netting arriving in 50 metre rolls. "We'd be rolling them out by hand, joining them together, rolling them out, joining them together. Now, it arrives in 100 metre rolls. With the invention of the netting roller we can get it in 400 metre rolls, which can fit on the front of the tractor and rolls out when the tractor moves. The netting roller can also strain it once clamped to the required tension."
Ken's favourite part
In the past 10 years, Ken has seen new technologies such as the Stockade stapler tool, rock drill and air hammers, modern post drivers and battery powered tools dramatically ease the heavy physical demands of fencing and decrease labour hours.
Always on the job
When Ken reflects on more than 20 years' of fulltime fencing in Otago, he says there's only been about three days where he hasn't gone to work because there's been none. Work always turns up!

"I wouldn't like to think how many kilometres of fencing I have done. We did about 100kms in Paerau, 'The Styx'. That took us two winters."