Mid North of South Australia, a couple of hours North of Adelaide is home to Rowe Fencing. Andrew and Cathy Rowe built the business up from scratch after the scorching summer of 2002 when Andrew says it simply 'forgot to rain'. Now, along with their sons Michael and Jacob, they run two teams of four full-time and four part-time staff providing all sorts of rural fencing, chain mesh, and a bit of domestic fencing to keep them busy when things are quiet on the rural side. While they predominantly stay fairly close to home, their work can take them from the Gawler Ranges down to the bottom end of the Yorke Peninsula over to Sedan and Truro.
What makes a great fencer?
Integrity with your clients as much as anything. We mainly work locally so you soon get found out if your work is not up to scratch. Having good gear and good workmen helps too.
What is the most rewarding part of your job?
Customer and job satisfaction. Fencing has always been one of those things that I really enjoyed, pulling down the worst fence on the place and putting up the best one. So, walking away and feeling good about what you have done, especially if it has been a challenging fence –whether it is undulation, rocky ground, heavily wooded. Generally, along the fencelines that we do, there's a lot of Mallee.
What keeps you motivated?
We have two boys in the business. We want to keep it in good stead for them. That's the driving force behind buying good machinery and equipment.
What advice would you give to newcomers coming into the industry?
Work to the best of your abilities. Don't cut corners. It can be tempting when you are on hard ground to just cut posts a bit shorter. The fence looks okay to start with, but it soon looks pretty ordinary. Make sure you do the simple things well.
What was the last tool you bought and why?
We have just taken hold of a new Munro post rammer. We will have that on a cat skid steer, and we have another auto-post rammer on a John Deere tractor. It just means we can have two teams working more efficiently.
What's Next?
Hoping to hand over the reins in the next five or six years to the boys.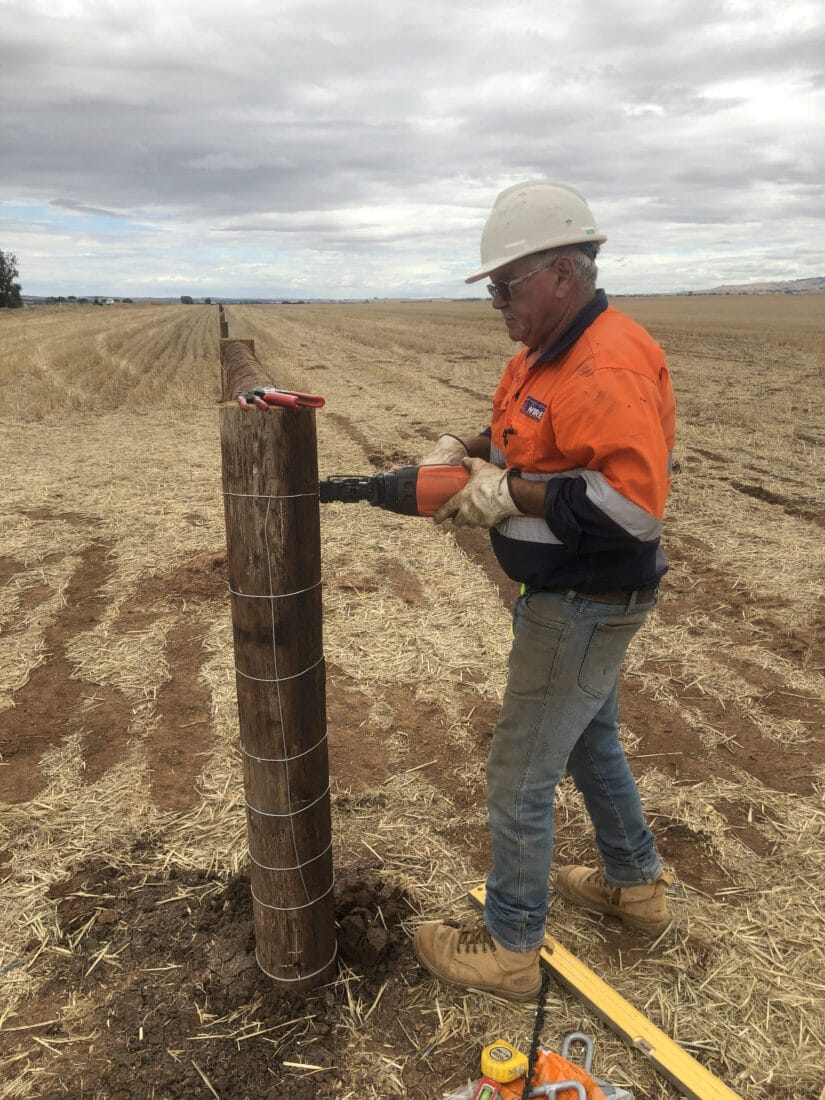 In the early days it was pretty hard work whereas now we've been able to buy some pretty reasonable equipment which makes everything a lot easier, including the Stockade tools. They're very helpful.

I started off with a 40mm air-operated Paslode tool and then went to the ST400 compressed air tool. Now we have two of the ST400i gas cartridge ones. They certainly speed the process up and save a few black fingernails.

Andrew Rowe